Choosing a jewelry store to buy your engagement ring from can be a daunting task. After all, an engagement ring is a symbol of a lasting and lifelong commitment that you are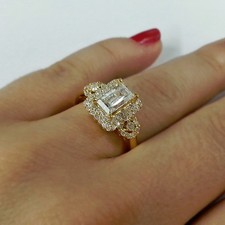 willing to make with another person, and you want the ring that you select as a symbol of that to reflect that sentiment. However, you also want to pay a reasonable price and not feel bullied into increasing your budget in order to get that perfect ring. Shoppers are also becoming more conscientious and concerned with purchasing a diamond that has been responsibly sourced so that they can feel good about showing it off to their friends and family. There are not many occasions in a person's life when they will find themselves in a jewelry store, so many average joe's have little to no experience with selecting a store that is going to give them all of the things that they want, namely price, selection, service, and conscientious products. So what can you do when you are looking for a jeweler to purchase your engagement ring from? Simply follow these steps:
Look for a jeweler that has credentials. The credentials should be from a reliable source, such as the GIA Institute (Gemological Institute of America.)  The GIA's primary goal is to help protect the people that buy and sell gemstones by creating a set of standards that are used all across the world to evaluate the quality of a gemstone or diamond. It is very easy to look up a jeweler to see if they have been certified by the GIA.
Ask if the jeweler offers what you are looking for. Do you want to create your own engagement ring from a selection of loose diamonds? Or perhaps you would prefer to select from a wide variety of rings that are already in their setting and adjust it from there? Are diamonds the way you want to go, or are you interested in adding other gemstones to your ring? Think about what your own preferences are before you go in to speak with a jeweler. Ask them what they specialize in and then decide if you want to shop there further. Most shops will offer a little bit of everything, but if you are leaning strongly in one direction then you should work with someone that has a wide selection of what you are looking for.
Find someone that is established. Only work with established jewelers. You want to make sure that if you are purchasing a ring with a warranty and a service plan that they are going to be around in five or ten years when you need to bring your ring in for repairs and cleaning.
Look for knowledgeable jewelers. Does a jeweler take the time to review the 4 C's with you and educate you about the diamonds that they are looking for? Are they pleasant to work with or do they act like pushy sales people? Purchasing a diamond is a big deal, so you want to make sure that you trust the information that the jeweler is giving you.