If your dream proposal is about to become a reality, then it is time to look at engagement rings.  In order to find the right one, there are a number of things that you need to know, besides her ring size.  You also need to know what her jewelry preferences are and where to pop the question and give her the ring.
First and foremost, when it comes to engagement rings, your best bet is to recruit those that are close to her.  Ask her friends and family if she has been dropping any hints or if there is a specific type of metal she prefers her jewelry to be made out of.  In addition, you can also ask, if you do not already know, how flashy the ring needs to be.  While you hope she will show it off everywhere she goes, it may be difficult if she works with her hands to sport a large rock.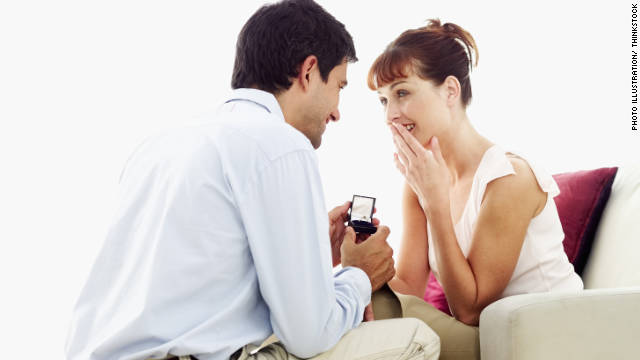 Once you have an idea of what she likes in the way of engagement rings and what she can live with, you need to ensure that you have enough saved up.  Your best bet is to expect to spend up to two month's salary.  If this is not what you had budgeted, then either hold off or expect to trade up when you can afford to do so.  You can also choose gold over platinum or a smaller stone with fewer carats.
While platinum is stronger than gold, many people prefer it because it is the traditional metal for most jewelry, including engagement rings to be made out of.  Furthermore, while carats dominate how diamonds are priced, the cut, color and clarity of the stone also come into play.  The more elaborate the setting, the less perfect the stone needs to be.  Therefore, you can choose a diamond that has flaws that only show up under a microscope or one that is not as colorless or white as it could be.
Once you have narrowed it down to three or four stones, ask to see them in the setting you selected or had made and see how it looks.  This is the best way to see which diamond is the right one for the ring after you have taken into account color, cut, clarity and carats.
Another question that you need to know the answer to before heading out to look at engagement rings is whether or not the two of you will have matching wedding bands and whether or not she plans to wear her band with her ring.  If she plans on wearing both rings together on the same hand, then you need to find an engagement ring that will complement your wedding band.  In addition, since you will probably wear matching wedding bands, you need to find something that you like, as well.
Regardless of what ring and stone you select, if she loves you as much as you love her, she is sure to say yes without hesitation.  Good luck.