Now that Christmas is over, you probably are already gathering ideas for your loved ones for next year.  Sometimes right after Christmas is the best time to shop for someone because you just had a discussion about what they loved, what they didn't, and what they needed but did not get from Santa Claus.  Do you have a person in your life that would have loved getting solid copper mugs for their bar?  If so, then save this article for next year.
Custom copper mugs are best known for their relation to a Moscow mule.  Moscow mules are cocktails made of vodka or gin with ginger beer and a splash of simple syrup and lime.  This signature drink was created back in the 1940s in a bar in Hollywood.  The combination of ginger beer and vodka came together because a bartender was trying to get rid of his stock of each.  At the time Smirnoff vodka was a new company and not well known, so the bartender was having trouble moving the stuff off the shelves.  He was also having trouble selling his house-made ginger beer.  The marriage of the two was an instant success, and it became especially well known because it was served in a flashy copper mug.  This, too, was just a coincidence.  The bartender knew that he was passing off unwanted alcohol to his patrons so he thought a nice looking copper mug would make them stand out a bit more, and it worked.  So the Moscow mule in a copper mug was born because the mug looked nice and the alcohol was hard to sell on its own.  And now 70 years later the mugs are still popular and highly coveted by bar enthusiasts.
So if you know someone that would love a custom copper mug with their name, favorite phrase, or even favorite sports team engraved, look no further.  There are some really great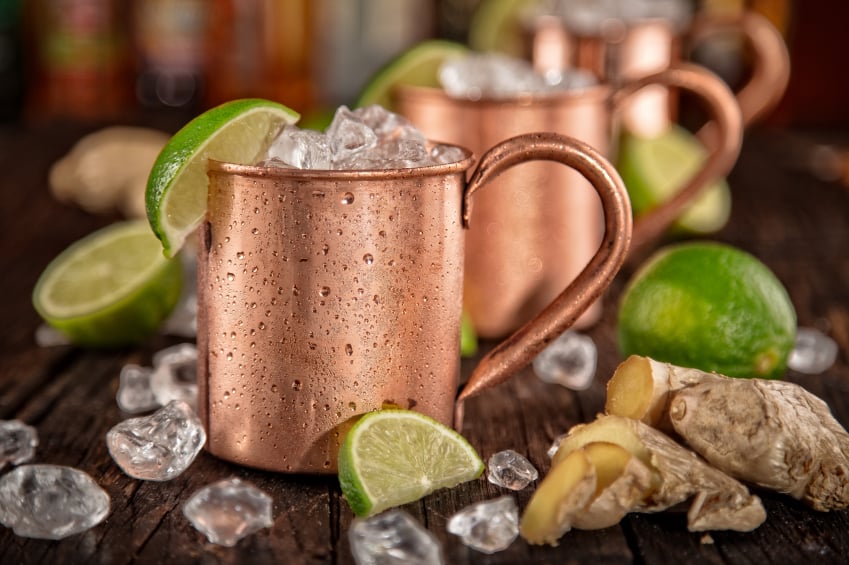 online companies that sell these custom mugs for reasonable prices.  For large orders you can get a great wholesale price.  For just one mug you still pay a fair price and can have it engraved or etched with whatever you want.  You can even order 5 mugs, each with a different design, for the same price.  They come in sizes ranging from 8 ounces to 24 ounces and anything in between.  The designs can be screen printed, etched, or engraved with not much difference in price.  When these pieces are added to a home bar, the bar itself is knocked up a notch on the belt of professionalism.  They just look so sleek and proper that no matter what drink you make in it, it will look like you just ordered it from a trendy New York City hang out.  Be sure to remember where to get these mugs and who to get them for next Christmas.  You can be sure that no one else will be giving your loved ones this gift because it is truly unique and they will cherish them for a lifetime due to the food-safe lacquer that keeps them like new!